Stroud Slad Farm
Over 12 years we have converted this small and beautiful farm on the edge of the cotswolds into a thriving organic farm.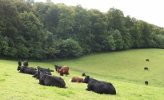 We now produce Beef, Lamb, Pasties and Firewood and have an acre of market garden. We were inspired by the first Stroud Food Festival (Sep 2008) to create a unique recipe for the Stroud Pasty.

In 2007 we were asked by, and worked with, local people to establish a Community Supported Agriculture project which has now transformed into a project for local families growing their own vegetables. Click here for more information.